Rishabh Pant Car Accident / How Rishabh Survived ? / Full Story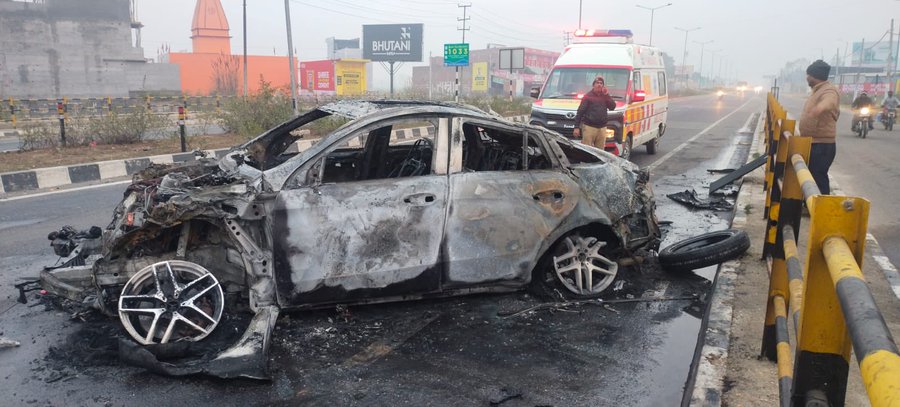 India's star wicket-keeper batsman Rishabh Pant met with a horrific car accident on Friday morning, 30th December 2022. He was driving a Mercedes-AMG GLE43 4MATIC coupe. A local driver, Sushil, rescued Pant from the accident site. Pant luckily escaped any major injuries. He's currently undergoing treatment at Max Hospital in Dehradun. Pant drove himself back home to Uttarakhand. Pant told the police that he fell asleep at that time. As a result, his Mercedes hit the divider at high speed. After that, the car caught fire. Pant's car was virtually destroyed. Pant was initially treated at Roorkee's capable Multispecialty Hospital & Trauma Care. From there he was shifted to Max Hospital in Dehradun. Pant's primary care Doctor Sushil Nagar gave an initial update on Pant's injuries. He said that Pant suffered head, back & leg injuries.
Despite the terrible accident, Pant did not lose control over his nerves. According to police sources, he got out of the burning car by breaking the glass. The primary cause of the accident is also known. Pant was drowsy while driving. Pant was alone in the car. But the nature of the accident was bone-chilling. Pant's survival can therefore be called a miracle.
Sushil Kumar, the unsung Hero
At that time a local bus driver, named Sushil Kumar, was present at the moment of the accident & immediately came forward to rescue the cricketer. Sushil said that he was traveling from Haridwar to Haryana by taking a bus on the other side of the road. He then saw Pant's car involved in an accident. Sushil saw that the car was on fire. He helped Pant reach the other side of the road safely. Sushil is a Bus Driver at Haryana Roadways, Panipat Depot. His bus left Haridwar at 4:25 am. As he was going, he saw a car, which was going very fast & got unbalanced & hit the divider. After the collision, the car went to the other side of the road which leads to Delhi. The car swerved to the 2nd lane of the road, & he immediately applied the brakes.
Sushil & the conductor rushed to get him off the car. By then the fire had caught on. After that, 3 others came running & helped bring him to safety. Sushil also stated that he did not know Pant's identity until the cricketer informed him. But Susheel didn't bother about making videos, wasting time, or anything else. He did what was necessary at that time. He called an ambulance. Initially, he didn't get any help. Panter's mother's phone number was also not available. But the ambulance arrived in time to take him to a nearby hospital. Pant was in the terrible condition physically. His mouth was bleeding & his body was badly cut. But before the situation could get worse, Sushil along with some locals jumped in to save him.
Rishabh Pant Car Accident / Nobody came for help
Sushil asked for help but no 1 came. He was shouting for help on the national highway. But no 1 responded. After that, Sushil called for an ambulance. Sushil asked Pant if he was okay & told him to drink water. After a little hesitation, Pant said, he's Rishabh Pant. Sushil doesn't watch cricket, so he didn't know who Pant was. But the Bus Conductor then told Sushil that Pant is an Indian cricketer. Pant gave Sushil his mother's number. Sushil called Pant's mother but her phone was switched off.
The ambulance arrived after 15 minutes & Sushil lifted him. His money was also scattered on the road, which Sushil picked up & handed over to him. Sushil asked Pant if he was alone in the car. Pant said, there's no 1 else. Rishabh's face was covered in blood & his clothes were torn. The back was badly injured. He was terrified & his lips were trembling.
Gratitude to Sushil Kumar but Humanity almost died
According to reports, some miscreants looted him and fled from the scene rather than helping him. A few men took advantage of his injuries to loot cash from 1 of his bags at the scene of the accident. Humanity died. But, we're grateful to Sushil Kumar for saving Rishabh Pant from the flaming car, wrapping him in a bedsheet, & calling an ambulance in the nick of time. We owe you a huge debt of gratitude for your selfless service.